What is Free AMR MP3 Converter (Freeware)?

Free AMR MP3 Converter Freeware is a audio convert tool. It allows converting AMR to MP3 easily.
Free AMR MP3 Converter Freeware Key Functions
Encode your mobile recoding AMR files into high-quality, noncorrupted MP3 files so you can store your favorite CDs or share them online.
This program gives you the option of creating MP3s at 40-bit rates and three sampling rates and in two channels.
Batch-convert unlimited AMR files in the fast and easy WinZip-style interface.
Encode AMR files into custom file sizes for use with portable MP3 players.
Support AMR-NB to MP3 and AMR-WB to MP3.
Multithreading are supported and the more files you convert the faster.
Free AMR MP3 Converter Freeware System Requirements:
OS: Windows 98/Me/2000/2003/XP, Windows Vista or better.
CPU: >750MHz Intel or AMD CPU
Free AMR MP3 Converter Freeware Screenshot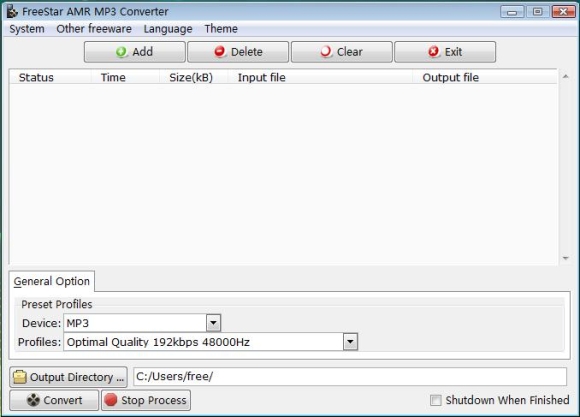 Free AMR MP3 Converter Freeware News

21-11-2008:Free AMR MP3 Converter 1.0.1 first release.

Free AMR MP3 Converter Freeware Support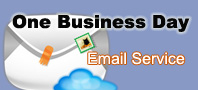 Should there be any queries, please don't hesitate to contact me by freestar666@gmail.com
Free AMR MP3 Converter Freeware Awards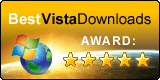 Free AMR MP3 Converter Freeware Articles
How to convert video to VCD format and burn it?
Other software about Free AMR MP3 Converter Freeware
VCD Creator:Video to MPEG converter + VCD author + VCD burner
Comments
mohamed hussein
25 Jul 2010, 07:32
hi am mohamed hussein mostafa
am a man 30 age acuonte man
ALEX
01 Aug 2010, 11:54
test
gonzalo
22 Aug 2010, 07:57
este programa me ayudo un poco aver si me funciona mas
shabbir
08 Oct 2010, 12:57
hi
dessy
18 Oct 2010, 17:54
hmmmm,,
ini beneran bisa gak .?
tp downloadny gmn ci .?
toni
12 Feb 2011, 06:33
ada serial number-nya ga yah ???
alberth
01 Mar 2011, 19:36
gracias por el programa, pero no me deja combertir archibos de 3 minutos de grabacion. porque sera?
Shirley
02 Mar 2011, 15:47
Great post, honest!
test
05 Apr 2011, 03:23
qaa
pramila
13 Apr 2011, 21:01
thank you
Janeczek
05 May 2011, 09:47
Muito bom o programa usem e abusem eh um maravilhoso conversor
Janeczek
05 May 2011, 09:48
e o melhor eh de graca mesmo
ley lary
29 May 2011, 04:25
Greet post , thank you
Peg
08 Jun 2011, 12:46
thanks for the program guys.
Diana Spencer
09 Jun 2011, 10:21
Exelente programa para convertir mis grabaciones de voz. Por lo general necesito tomar notas y es escribirlas no siempre es muy convenciente. Al menos de esta forma puedo explicar claramente el detalle de cada situacion en mi trabajo.
sany
10 Jun 2011, 07:11
thank
SAJI
19 Jul 2011, 09:04
Trying 4 the first time.
doski
06 Aug 2011, 21:58
hawo amr to mp3 converter
david
11 Aug 2011, 02:00
The is a cool .amr to Mp3 converter. It works great!
Carmem
16 Aug 2011, 14:25
GENTE EU NAO SEI COMO CONVERTER DE JEITO NENHUM, como escolhe a pasta de destino? se alguem do Brasil tiver on aqui por favor me dê uma luz. muito obrigada
SKYLER SIXX
30 Aug 2011, 17:03
SO FAR I HAVEN'T HAD THE CHANCE TO USE THE PROGRAM JUST YET,BUT I'M LOOKING FORWARD TO IT.AND AS SOON AS I FINISH MY PROJECT AND GET THE CHANCE TO SEE HOW THIS PROGRAM TURNED OUT I'LL BE SURE TO COME BACK AND COMMENT.IF THE PROGRAM WORKS AS I'M HOPING IT WILL I WILL BE SURE TO PASS IT ALONG TO MANY OTHERS.
krishan
10 Sep 2011, 06:29
want amr mp3 convertor
Geraldo G. Pereira.
10 Sep 2011, 21:04
I downloaded, tested and was very pleased.
Valley. the program is great.
ISABEL YAUSEN
22 Sep 2011, 22:31
hola
Robson Santiago
03 Oct 2011, 14:58
Otimo Produto e o mais importante vc naum paga nada por ele.obrigado
kalpesh
12 Oct 2011, 05:52
i want AMR to MP3 conveter (free version)
Scott
27 Oct 2011, 10:30
I love your software! It worked without any flaws. You should charge $$ for this in the future.Thank you!
Scott
daniel velasquez
18 Nov 2011, 15:52
very good the programan y so coool
Mend
26 Nov 2011, 20:08
Muy bueno el software, no perdio calidad en el audio y converti una grabación de 45 minutos.Gracias
ARNALDO
27 Nov 2011, 09:08
EXCELENTE
Jenni
28 Nov 2011, 09:19
Muy bueno, excelente la calidad en el audio
eli_des
05 Dec 2011, 07:49
thanks! im soooo happy!
maria
09 Dec 2011, 20:26
ok
C10
13 Dec 2011, 22:49
Thanks! You saved my hard work I did in the wrong file format. Yeh!!!!!
grard
16 Dec 2011, 15:07
excellent
lnmn
22 Dec 2011, 12:30
hjghjgjk
decidmeRU
28 Dec 2011, 00:52
EL MEJOR PROBRAMA DE CONV. DE AMR!
rejj
30 Dec 2011, 11:58
Thanks!
Mis
16 Jan 2012, 08:03
Can you please explain to me why I can only convert one file at a time, when the description states that you can batch convert unlimited files?
LarjMammal
18 Jan 2012, 18:13
Thanks! .amr files convert to .mp3 files on my Win7 platform perfectly!
Sergei
20 Jan 2012, 20:23
i want convert amr en mp3
JINHEE KIM
24 Jan 2012, 07:52
i want convert amr en mp3
dinesh kumar
25 Jan 2012, 09:27
ya its very super iam using this were
C Naveen
24 Feb 2012, 00:47
iam very glad to say this, i got this software, providing this software on net thankyou verch much
Louise Vinitha
25 Feb 2012, 10:26
Nice Softwware
sudarshan
20 Mar 2012, 03:46
nice software
TK
25 Apr 2012, 21:36
I downloaded several free converter but this is the only one that worked. Many thanks,
Julian
28 Apr 2012, 18:00
Im impressed. I had some voice recordings on my samsung in their .AMR format, and this software effortlessly converted over to MP3 with no trouble.
Ernesto
07 May 2012, 13:41
excelente programa adems de facil utilizacion
Fer
19 May 2012, 07:54
muito bom, converteu os arquivos de voz do meu celular em perfeito!!
Davi
21 May 2012, 09:52
It's just simple, great and functional : Do ecxatly what say it does. Hello from Brazil and congratulations to the developers.
Davi.
Georgia
22 May 2012, 11:54
Awesome, functional, very easy to convert.
tnt
27 May 2012, 03:16
tož to je úlet
amadeo rojas
28 May 2012, 16:19
no he podido convertir lo que tengo grabado en mi telefono que esta en amr a mp3
Hosein
01 Jun 2012, 05:25
merci
Hu
04 Jun 2012, 13:57
thanks
N Ravi Shankar
05 Jun 2012, 00:42
Its a wonderful software for converting .amr to .mp3 and its very easy and simple to utilise. Thanks to the developers.
Willy
06 Jun 2012, 14:52
Este Convertidor es muy practico y me sirve mucho. Estoy muy contento de haberlo bajado. Muchas gracias
tim
07 Jun 2012, 09:52
your install exe file contains virus
José
29 Jun 2012, 10:40
Muchas gracias, este convertidor es muy bueno y muy útil.
Gaby
04 Jul 2012, 12:57
me sirvio, es muy rápido =)
Jack
05 Jul 2012, 11:45
thanks
Willy
16 Jul 2012, 02:44
El convertidor de AMR A MP3 es una bendición de Dios me gusta mucho aunque me gustaría que lo hicieran en español por favor. Saludos y gracias
Junior
31 Jul 2012, 16:19
Muito bom, simples, fácil e rápido.
CARLOS
02 Aug 2012, 07:37
excelente programa
raul gutierrez
16 Aug 2012, 17:53
por favor necesito ayuda no se como usar este programa
orlando
19 Aug 2012, 15:37
ta genial este programa, me ayudo demasiado y es facil de usar
Jair
31 Aug 2012, 16:30
ok, thanks
vishal Asoliya
16 Sep 2012, 03:10
thanx
maria
30 Sep 2012, 01:04
tnx it works great
AVTAR DHILLON
24 Oct 2012, 21:08
It's very good,Thanks
STUART
24 Nov 2012, 14:57
I removed the software immediately after first use.I have about a hundred individual amr files and this allows you to only open one at a time.
sayonara
Manuel
11 Dec 2012, 11:59
Quiero convertir unos archivos de mi telefono
vinicius
27 Dec 2012, 10:22
estou tentando converter atravez deste porograma que acabei de baixar mais nao esta funcionando
Priscila
12 Jan 2013, 15:21
Muito bom!
Hoss
13 Jan 2013, 19:09
Worked great to save my iphone voicemails 😀
vinod
20 Jan 2013, 01:14
i want amr to mp3 converter
Sang-Taek Kim
06 Feb 2013, 10:26
I want amr to mp3 converter.Thanks you.
ELIAS_RX8
07 Feb 2013, 02:47
i want amr to mp3 converter
Vicko
13 Feb 2013, 15:00
Ok Excelente
пошли нахуй пидарасы
28 Mar 2013, 17:35
Хуйня ваша программа и вы гандоны полные в жопу вас выебать за такие программы
<<zdxcv
02 Apr 2013, 18:26
thaanks
Justy
21 Jun 2013, 17:18
It's amazing! Thanks for this converter:* love u!
fathin
22 Jun 2013, 21:12
mantap.. oke bo'…
ELGA
03 Feb 2014, 18:00
Olá, Sou Elga de Portugal. O programa é muito bom, porque até ao momento, desde fev 2013 que converto uns ensinamentos VOZ que gravo através do telemóvel em .amr e converto para .mp3- é muito prático, intuitivo e o mais importante, grava com com o mesmo título que o original. THANK´S , KEEP UP THE GOOD WORK.
Test User
30 Jun 2014, 04:12
Testing